The equipment and staff of the Penn QPRC have now physically and administratively merged with the CHOP Proteomics Core to provide a single, unified facility designed to meet the proteomics needs of the entire Penn/CHOP community.
Access to core services are available HERE

Read about the merging of the Penn and CHOP proteomic cores

here
Overview of Services
The Quantitative Proteomics Resource Core (QPRC) provides investigators access to the most advanced high-resolution mass-spectrometry-based proteomics technologies. These approaches are implemented with a broad variety of mass-spectrometry-based experiments to characterize and quantify proteins from complex biological samples.
See the instruction (Download)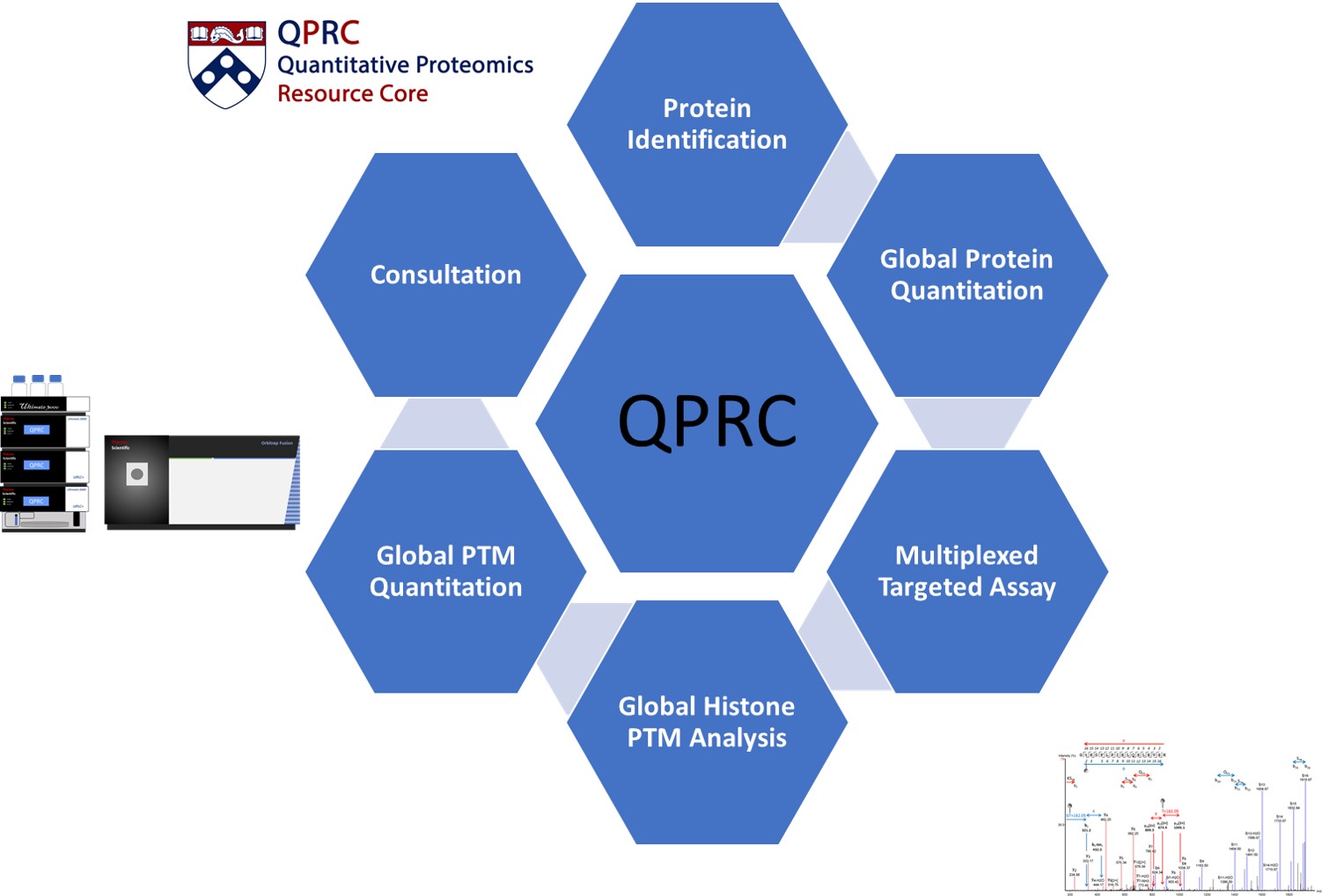 Services include:
Protein identification from gel bands or solution samples
Single protein post-translational modification (PTM) analyses using Bottom Up
Global proteome expression analyses from cells or tissues using label-free, SILAC or TMT quantification
Protein-protein or RNA-protein interaction experiments
Global histone PTM analysis
Custom analyses based on targets of interest (single target or proteome-wide)
----------------------------------------
Resources
•QPRC Policy Download
•Frequently Asked Questions Download
•(Co)-IP Sample Guidelines Short version Long version
•Multiplex TMT Quantitation
Workflow of Global Proteome and Phosphoproteome
•N-linked glycosylation sites download
---------------------------------------
Location and hours of operation
Hours
Location

Monday - Friday

9am - 5pm

Room 9-179

Smilow Center for Translational Research University of Pennsylvania
3400 Civic Center Blvd.
Philadelphia, PA 19104-5157
Links and Resources